So, we all know I have a problem with Mary Sues, right? Yadda yadda change the record, laila. I know you're not even very good at doing that with actual
music
(just
how
many times have you listened to
The Boxer
in the last few days apart from Far Too Many, anyway), but you could at least try not to keep on subjecting other people to this stuff, right? Sadly, I can't. Because once again I think - or like to think anyway - that I have found something new this time.
The context?
This
, and that's the
condensed
version. The wank that spawned the comment that spawned this rant - focusing on an overpowered blond-haired blue ponything - was a bit of a doozy, if only for the sheer degree of Not Getting It its creator exhibited.
Long story short, there are speshul snowflakes out there, and of course they're bloody infuriating. These snowflakes are created by people who insist that every single ridiculous talent and every single angsty incident that they've piled on the character's beautiful and shapely shoulders forms an
integral part
of who and what they are to the extent that if even one of those powers was removed or scaled back, or if a single angsty incident was omitted from their tragic past, the character would become broken and unplayable. Because, you know, it's absolutely
vital
to their sense of self that they play the piano beautifully and sensitively, and were bullied in middle school for Insert Legitimately Angsty Reason here.
The problem is that this isn't an
entirely
ridiculous idea. It takes a perfectly valid character-building technique - that personal circumstances and history play a vital role in building and shaping character - and turns it into something completely stupid.
The end result is both horrible and predictable.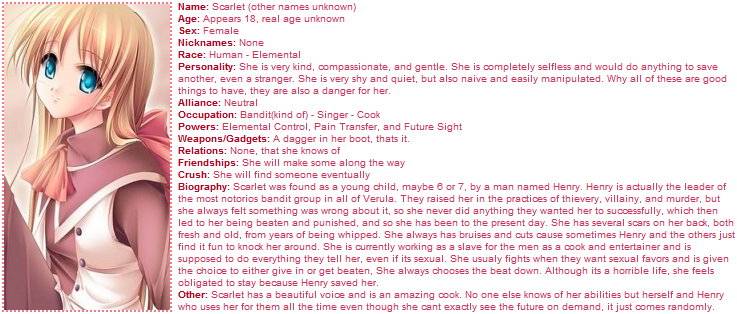 Yup. This would be Scarlet of
Before the Last Cherry Blossom Falls ((FantasyRomance.Open))
, the beautiful, saintly, long-suffering and totally legitimately angst-ridden creation of an RPer who goes by the not at all OTT alias of '
ScarletWingsofDestiny
'. No, I don't think the fact that her creator has 'Scarlet' in her screenname and has at least
two
other
saintly, long-suffering strawberry-blonde OCs named Scarlet is a coincidence either. The truly terrifying thing? Even
other Gaia RPers
think that 'ScarletWingsofDestiny' is a
Suethor
. If you're repelling the kind of people who join a
Pokemon
RP entitled
Discover Your Destiny ((Pokemon. Please Join. Need People))
on Gaia Online, you probably need to think a little harder about what you're doing.
Which brings me to the heart of this rant, and the thing I wanted to highlight.
If you cannot write about your OC without falling back on their speshul powers of speshulness and angst past of angst, you need to go back to the drawing board and start again. Only adding an actual
personality
this time.
Past angst and speshul powers of speshulness are optional extras. They're nice enough, I guess, but they aren't any kind of substitute for possessing an actual personality. Going on about how special your character is and how tragic their past was doesn't actually tell us anything about
them
. It tells a reader where they come from and that you think that we should be impressed with them for overcoming it anyway and being so awesomely shiny, but it doesn't tell us what the Hell
they
are like. You should still be able to tell a reader who the Hell your character actually is without mentioning their terrible past, their special abilities or deeply significant bling - or, for thatr matter, who they're there to hook up with. Because none of that is really about
them
.
You the author should, in fact, be able to do this without any trouble whatsoever.
Imagine your character wakes up alone in a strange place with no memory of how they got there, no powers, no cool toys, nothing. They can speak the local language, maybe they even know their name, but that's about it. They have to figure out who they are and what's going on and what to do without much of anything to go on. How do they behave? What core traits of their personality are going to come out? If you don't know [...], that would mean that they don't actually have a core personality, or at least not one you're willing or able to explore.

master_simon
Taking Ken Hidaka and subjecting him to this thought experiment produces the following:
His first reaction would be confusion. That would be very quickly replaced by the desire to look around for who was responsible for stranding him there in the first place. If he saw anyone who looked like they might have something to do with it, he would corner them as quickly as possible and demand to know what was going on. Words would be exchanged and punches might be thrown. He would then set about trying to find a way out of there and back to wherever the Hell he did belong, because it clearly wasn't there. He wouldn't be prepared to believe that nobody knew what had happened to him or could fix it, and would be determined to figure out who and how. He would be far more concerned with getting back to where he was meant to be than with working out who he was: he'd likely figure that could come later. He would not win many friends for himself by virtue of being confused and irritable most of the time, though he'd find it easy enough to get out there and get talking to people.
This, bear in mind, is a character from
Weiss Kreuz
, a series that is not exactly famed for its deep and nuanced sense of characterization. The main cast are heavily, heavily archetype-based, and for all they're also fairly appealing characters to watch in action, their roots are basically pretty generic. And yet working out what Ken Hidaka would do in the situation above was actually very easy. Because yes he's got gloves and goggles and an orange sweater, and he likes soccer and has an angst past, but he also
has a personality
. Ken is a self-confident, stubborn, easily confused hothead who'll keep worrying at problems until he's either managed to solve them or, more likely, found someone he can yell at or hit until
they
solve them.
A basic, non-contradictory personality is absolutely all a character needs for anybody who writes about them to be able to reply to that question both quickly and easily. Because let's face it, this should not be even remotely problematic to answer. If your character is even as well-defined as the ones in
Weiss Kreuz
, and you understand them about as well as a decent canon-character roleplayer does one of their muses, it should take about five minutes.
Which means anyone who is sitting there scratching their head or complaining that it's Just Too Hard to explain who their character is without falling back on their angst and speshul has created a character who
doesn't actually possess
a personality. If they as an individual can't work out how to solve a problem as simple as
who am I and where is this
without falling back on, say, magical powers or their daddy issues then they'tre not actually a character, they're just a loose affiliation of special powers and personal traumas formed into the vague shape of a person. Most likely a person with tumbling locks and curves in all the right places. Cat ears may or may not be involved.
In short, they need to go back and try again. And realize that 'cute, nice, shy, determined, will fight anyone who hurts her friends' doesn't actually cut it when it comes to defining who a character
is
next time.
Current Music: orange crush - r.e.m
Current Mood:

distracted